International Pet Travel: 7 Steps & Practical Tips
When VSL Clinic Manager Emma traveled from Cambodia to Germany with six cats, she collected many valuable practical tips. Here, we condense them into 7 straightforward steps.
Check compliance with destination country requirements
Book your flight and/or make your ground transport arrangements
Select the right travel crate
Departing Cambodia
Additional travel preparation in Thailand
During the flight
Arrival at destination
Let's take a closer look.
Step 1: Check compliance with destination country requirements
You may need any or all of the following:
Microchip
Core Vaccinations
Rabies Vaccinations
Rabies Serology Certificate
Internal/External parasite treatments
Additional blood tests/certifications
Requirements can vary widely depending upon your destination. For the EU, you can check our helpful blog post that explains the EU Pet Travel Scheme in depth. For other countries please contact VSL to book an in-person or online consultation.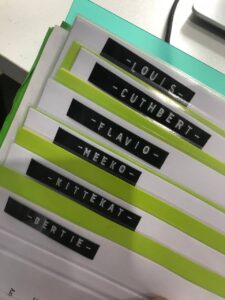 Step 2: Book your flight and/or make ground transport arrangements
Passenger Flights
In Cabin: In general, pets must be below 7kg (including weight of transport bag) and must be small enough to fit underneath the seat in front for taxi, take-off, and landing to be carried as hand-luggage. Carefully check your airline's pet carriage policy, it should list the restrictions on weight and soft-sided carrier dimensions. Never place pets in overhead compartments inside the cabin as this poses a threat of suffocation.
In baggage hold: Pets too large to fit under the seat in the cabin must be transported in the baggage hold in an IATA compliant hard-type crate. Some routes and aircraft types cannot accept pets as checked baggage, there are more options if flying out of a larger airport (Suvarnabhumi Bangkok).
Unaccompanied (Manifest) Cargo: This is when pets fly without needing to be accompanied by their owner. Generally this is the most expensive option, as fees are based on the volumetric weight (dimensions) of the hard-type crate, not the actual weight. Certain countries will only accept pets as manifest cargo. VSL can provide a quotation for this service.
Airlines may have limitations or outright bans on transporting Dangerous Dog Breeds, Snub-Nosed animals, or country embargoes during the hottest times of the year. Many airlines also have restrictions on the number of pets allowed in the cabin or baggage hold on a single flight, so it requires careful planning. If you need any assistance, or are considering Unaccompanied (Manifest) Cargo due to animal or destination country restrictions please contact VSL for a quote and to explore your options further.

Overland Transport
At time of writing (September 2023), no buses accept pets but you can hire a private minivan/taxi to travel comfortably overland. Be sure to allow enough time; the journey from Phnom Penh to Bangkok can easily take 14 hours or more, depending on the number of tourists crossing, weather, officials, and so on.
It is recommended to book a hotel, guesthouse or Airbnb to rest up before flying onwards. Otherwise, the trip is too stressful for you and your pets, which can cause health issues. When booking accommodation, make sure it is pet friendly in advance.
If you would like assistance in booking a pet friendly taxi or private minivan please contact VSL for a quote! We can assist with transport on both sides of the border.
Step 3: Select the right travel crate
Once you have booked your flight/made ground transport arrangements, you can select the right travel crate according to the airline requirements. Make sure your crate complies with the International Air Transport Association (IATA) guidelines for pet travel crates.
Factors to select the right crate
Size: The crate should provide enough space for your furry friends to stand, turn around, and lie down comfortably. It's better to have a slightly larger crate than one that's too small.
Ventilation: Proper ventilation is crucial to maintain a comfortable temperature inside the crate. Look for crates with multiple ventilation holes or mesh windows that allow for adequate airflow.
Security: Opt for a crate with secure latches and metal bolts rather than plastic clips, and with only one door, to prevent accidental escapes during transit.
Comfort: Line the bottom of the crate with absorbent padding and add a familiar blanket or toy to provide comfort and reduce stress.
Hydration: It is a requirement that all pets have a water bottle and food bowl securely attached to the travel crate whilst in transit.
Measuring your pet (crate fitting)
VSL can assist you with measuring your pet. This service is FREE of charge on the same day when you buy a crate from VSL (sizes XS-4XL). Otherwise, this service is provided at 16.50$.
To assist in determining the approximate size of the traveling container, the following formula may be useful. When calculating the minimum internal height of the container, the height of bedding should be added to the height of the animal.
Animal measurements
A = length of animal from tip of nose to base/root of tail.
B = height from ground to elbow joint.
C = width across shoulders or widest point (whichever is the greater).
D = height of animal in natural standing position from top of the head or the ear tip to the floor (whichever is higher).
Minimum internal container dimensions for a single animal
Container length = A + ½ B
Container width = C x 2
Container height E = D + bedding
Snub-nosed breeds require 10% larger container
VSL also sells soft pet carriers, water bottles, food bowls and pee pads in line with IATA requirements.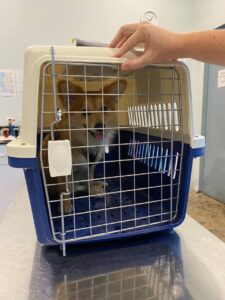 Step 4: Departing Cambodia
The best option depends on your individual situation. Consult with VSL to identify the best option for your beloved pets.
Departing Cambodia by Air
If your flight departs from Phnom Penh International airport (PNH), make sure to arrive at least 2 hours in advance of your departure time. Present your pet and original documents at the check-in desk, once accepted onto the flight you will be directed to drop off your pet at the oversize baggage area. If your pet travels in the cabin with you, you may want to consider bringing a harness/leash for them, as you will have to remove them from their soft-sided carrier, so that the carrier can go through the x-ray scanner at security prior to boarding.
Due to the small size of the runway and seasonal embargoes, many airlines use only narrow-bodied aircraft that cannot accommodate pets in the hold out of PNH. This may necessitate overland travel to Bangkok, where there are many more options for airlines out of Suvarnabhumi airport (BKK).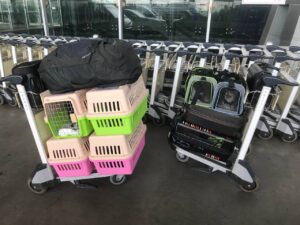 Departing by land (Border crossing into Thailand)
VSL can assist with hiring a private minivan/taxi to travel comfortably overland. Remember that you or a designated person needs to travel together with your animals; they cannot be sent with just the driver unless you use a trusted agent.
At the border, you will enter through the immigration checkpoint and need to move to a new vehicle. Make sure your (human!) passport and visa requirements are clarified beforehand to avoid spending extra time and money.
Step 5: Additional travel preparation in Thailand
You will need to go to the Suvarnabhumi Airport Animal Quarantine Station before you depart from Thailand with a pet.
Location: 1st Floor Customs Export Building, Free Zone, Suvarnabhumi Airport, https://goo.gl/maps/QUBKt6mGUAMfis93A
When you drive in, it's a concrete building and the Department of Livestock is the last building by the entrance at bay 20.
Phone: (+65)02-134-0731-2
Open: Mon-Fri, 8:30-12:00 and 13:00-15:30
Email for Import: qsap_bkk_import@dld.go.th
Email for Export: qsap_bkk_export@dld.go.th
Closed on Weekends and Thai public holidays, so you will need to plan the date so it aligns with your flight itinerary. If in doubt we suggest emailing or phoning them to double check opening days and hours.
You'll need to bring your pets and all of their original documents, and photocopies, to the Animal Quarantine Station for physical examination within 1-5 days prior to your departure date. It is not possible to book appointments, animals are seen on a first-come-first-served basis.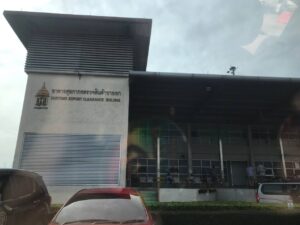 The process takes approximately 3 hours. Remember to bring snacks & water for yourselves and your pets as there is no air conditioning in the waiting area.
You will need to prepare 250 THB per pet and 10 THB per shipment and they only accept payments in cash. It's best to take a little extra just in case.There is a 7/11 gas station with an ATM within walking distance for purchasing water/food/additional cash but there is unfortunately no official holding area at the Quarantine Station to safely house the pets unattended.
After completing the step-by-step process at the Suvarnabhumi Animal Quarantine Station, your pets will be issued with their Thai Export Permit.
Tips
Make photocopies of the Thai Export Permit once it has been issued.
Attach copies of all documents to your pet's crate before check-in at BKK airport.
Also attach a photocopy of your passport and contact details to your pet's travel crate for additional security, just in case you should get separated.
Check-in at BKK airport is the same as described above for departing PNH airport.
Step 6: During the flight
Once on the aircraft and seated, airline crew will usually approach you to go over safety measures for you and your pet. If not, it is recommended to alert a member of the crew that it is you who is traveling with the cats/dogs.
If traveling with you in the cabin, it is usually not permitted to let the pets out of the carrier, and they must be kept under the seat in front of you or on the seat next to you at all times (if it's unoccupied).
If your pet travels in the baggage hold, you will not be able to see them during any stopovers.
Tips
Bring toys & familiar bedding for your pets during the flight.
Use zip lock ties to secure doors closed.
Remember that airlines generally do NOT allow animals to be sedated during transport for safety reasons.
If you are nervous about your pet being particularly stressed or aggressive during transit, consult with VSL for advice on safe anti-anxiety medication and (if agreed on) prescription of a trial ahead of flying to check the animal doesn't have a negative reaction.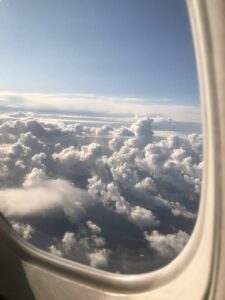 Step 7: Arrival at destination
If your pets traveled in the baggage hold, pick them up at the oversized baggage counter.
Proceed to the customs area. Usually, there will be a green door for "Nothing to declare" and a red door for "Goods to Declare". Go to the red door. Have your paperwork ready for inspection, and your pets may be held in a separate office while a staff member scans each of their microchips and matches them with the information given on the Health Certificates. Your paperwork will be copied, stamped, signed, dated, and returned to you.
When traveling to the EU, the stamped EU Health Certificate is valid for a further 4 months for travel between EU member states, after which you must take it to a local veterinarian to have it converted to an EU Pet Passport.
Congratulations, you did it! Your international pet relocation adventure has been completed successfully.
Book your pet travel consult at VSL
We understand that the above is a lot to take in and travel in itself is stressful, even more so with furry friends. If you require help with any or all of the above steps, VSL is here for you!
Your individualised pet travel plan at VSL
In-person (33$)
Phone/video call ($16.50)
Pet travel services at VSL
Advice on & administering of vaccines & dates, blood tests, prices, timeframe
Checking existing documents (save money)
Export permits & Government endorsed health certificates and signatures/stamps
Recommendations when booking overland travel, flights & safe pet travel
Advice on IATA crate compliance & requirements
Book your pet travel consultation
Phone: 023-986-640
WhatsApp/Telegram: 017-464-681
Visit us in BKK1: House #33, St. 334 (corner St. 63)