Phanna Ly – Clinical Supervisor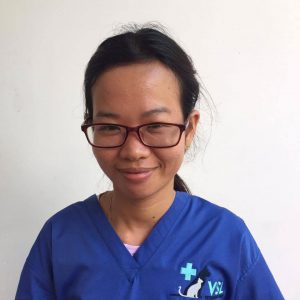 Phanna Ly graduated from The Royal University of Agriculture, Phnom Penh, with a Bachelor's degree in Veterinary Medicine in 2015. She particularly enjoyed her studies in internal medicine and surgery whilst at university, and wrote her thesis about treating mastitis in pigs.
Phanna has been with VSL from the very beginning alongside Dr. Lauren and has helped to grow the clinic into what you see today! If you have any questions, she is the most likely one to have the answer for you.
In her spare time, she enjoys listening to music, watching movies, and has two pet dogs in her home province.