Emma Jane Smith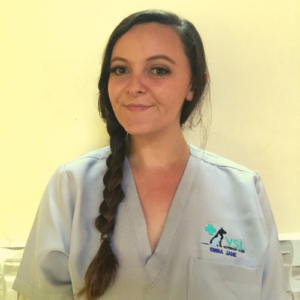 Emma Jane Smith came to Cambodia in 2015, volunteering and working with a number of animal welfare organizations. In August 2022, Emma joined the VSL team as a Clinic Manager.
Emma has a deep desire for lifelong learning and enrolled in further education in veterinary care to serve the animals and organizations she supports even better. She is currently enrolled on a Level 2 Diploma for Veterinary Care Assistants with the College of Animal Welfare in the UK.
Living in Kampot with her 4 beloved rescue dogs and 1 cat, Emma commutes to Phnom Penh every week to serve pets and their owners at VSL. She handles much of the day-to-day running of the clinic, supervising the local staff, customer service, as well as assisting with pet imports and exports.