Dr Lauren's Pets
Money
Money is a 8-year-old Pomeranian. Dr. Lauren took him on when his owners in Malaysia could no longer care for him, and he flew all the way to Cambodia to start his new life! He is constantly full of energy and never seems to tire, which makes him a typical Pom!
He requires a lot of at-home grooming and regular visits to a professional groomer for a trim to try and keep him as cool as possible - Cambodia is not the ideal climate to be stuck wearing a permanent fur coat!
He loves meeting other dogs, and you might bump into him on a morning walk around Independence Monument if you are up early enough!
.
Bambi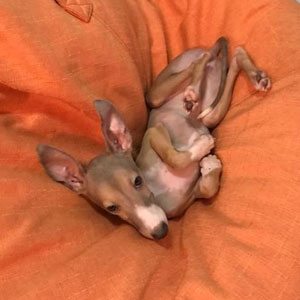 Bambi
is an Italian Greyhound, well suited for living in Cambodia because of her very short hair and athletic build.
She's a new addition to the VSL family and is still getting accustomed to meeting new people and new pets, keep an eye out for her around the clinic!
She very much enjoys bullying her older brother Money!
Hani and Nani
Hani
and
Nani
were abandoned as kittens at a pagoda in Phnom Penh, luckily Animal Rescue Cambodia scooped them up and brought them to VSL to be neutered.
After performing the surgery and spending a little bit of time with them during recovery, Dr. Lauren couldn't bear to give them back!
They get along well with their canine housemates, and you'll regularly see them at the clinic - especially in the evenings when they come begging for their dinner!
Make sure you are prepared for this commitment and think carefully about what kind of pet will fit with your lifestyle - feel free to come in and talk to us if you would like some advice!